We are delighted to be open
We are open normal hours.
There are Covid-19 protocols in place to keep our staff and customers safe.
Please abide by these and please don't visit us if you are feeling unwell.
Please note, we will NOT be buying or exchanging books under Level 2.
Thank you for your on-line support during Level 3 and for your patience with the delays in delivery.
We look forward to seeing you all in store soon.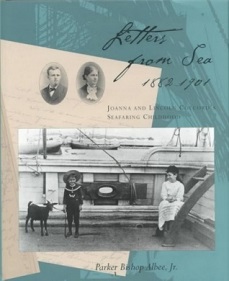 In June of 1881, on the very night of their wedding in Searsport, Maine, Captain Lincoln Alden Colcord and his new wife, Jane Sweetser Colcord, departed for sea to begin a two-year voyage on the bark Charlotte A. Littlefield. The voyage would take them around the world and witness the birth of their daughter Joanna amid the South Sea Islands and young Lincoln's arrival during a treacherous winter storm off Cape Horn. Fifth generation seafarers, Joanna and Lincoln Colcord spent their youth at sea aboard their fathers' ships. Years later, looking back at his seafaring childhood Lincoln wrote, "I know no other home than a ship's deck, except the distant home in Maine that we visited for a few weeks every year or two. My countryside was the ocean floor, where I could roam only with the spyglass; my skyline was the horizon, broken by the ghostly silhouettes of passing vessels, or at intervals by the coasts of many continents, as we sailed the world." The Colcords' richly detailed "journal letters" to family members ashore, their logbooks, photographs, and later correspondence all give us a splendid window into the life of a seafaring family. We share their exhilaration in catching the trades under fair skies yet are ever conscious of the uncertainties of sea life: illness, the threat of typhoons and dismastings, wrecks and financial disaster. Life's tasks emerge as the family forges a home aboard ship, raises and educates the children, and seeks companionship in foreign ports, all while trying to eke out a living under sail...