Anzac Day Hours:
Sunday 25 April - ANZAC Day 1-7pm
Monday 26 April - 12 -6pm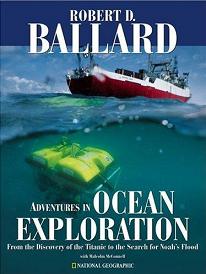 Title:
Adventures in Ocean Exploration - From the Discovery of the Titanic to the Search for Noah's Flood
In an era when satellite photographs chart even the most remote landmasses in astonishing detail, we often think of the world as being mostly explored, but in fact the vast majority of our planet lies unrevealed beneath the ocean. In this watery wilderness, an environment every bit as inaccessible as space, Dr. Robert Ballard has pursued an extraordinary dual career as an outstanding marine scientist and a pioneering discoverer. One of our leading oceanographers and National Geographic's Explorer-in-Residence, Ballard tells of plunging 12,000 feet to the floor of the Atlantic, finding new life in the superheated water around active volcanoes on the Pacific seabed, and locating scores of wrecks, from Homeric galleys to the Nazi battleship Bismarck. We peer from the cramped cabin of a research submarine at bioluminescent fish glowing in the sunless depths, gasp for air as the bathyscaph Archimede fills with acrid smoke miles beneath the surface of the sea, and join a crack team of technicians on the bridge of a research ship as they 'fly' a state-of-the-art unmanned submersible over the Titanic's ghostly hull. Capturing all of the irresistible lure of the sea in 200 vivid illustrations and a lively text that spans thousands of years of seafaring and oceanography, this is a book as expansive as its subject, filled with fascinating information, stirring history, and a full measure of the infectious excitement of discovery Robert Ballard knows so well....