Thanks to everyone who saw our note that we are buying again.
The response has been huge.
So huge that we need to slow down in order to get all the books
we have bought over the last 2 weeks on the shelf for you to buy.

We are still buying but selectively.
So, please call if you have more than 3 boxes.
Some sections are overflowing, particularly children's, detective and cooking.

On a similar note if you are looking for
Children's books, detective novels or cook books, we have heaps of new stock.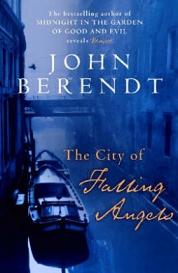 Title:
The City of Falling Angels
Taking the fire that destroyed the Fenice theatre in 1996 as his starting point, John Berendt creates a unique and unforgettable portrait of Venice and its extraordinary inhabitants. Beneath the exquisite facade of the world's most beautiful historic city, scandal, corruption and venality are rampant, and John Berendt is a master at seeking them out. Ezra Pound and his mistress, Olga; poet Mario Stefani; the Rat Man of Treviso; or Mario Moro - self-styled carabiniere, fireman, soldier or airman, depending on the day of the week. With his background in journalism, Berendt is perfectly poised to gain access to private and unapproachable people, and persuade them to talk frankly to him. The result is mischievous, witty, compelling - and destined to be the non-fiction succes d'estime of the year...
Second hand Trade Paperback