We are open on the Wellington Anniversary from 12pm until 6pm.
Arty Bees is now operating under Orange restrictions.
You can order via our website.  All web orders are delivered via courier and NZ Post. 
Store pick ups can be ordered online or organised by phone and email.
To keep up with all the Arty Bees news subscribe to our newsletter at the bottom of the page.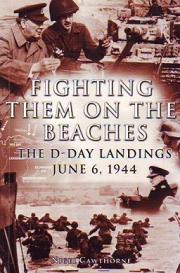 Title:
Fighting Them On the Beaches
Tells the story of one of the largest and most meticulously organized seaborne invasions in the history of warfare: D-Day. As the parachutists and glider troops of the US and British Airborne divisions went in on the night on June 5, Allied shipping began massing out in the Channel. As dawn broke on June 6, waves of assault craft hit the Normany beaches. British, American, Canadian, Polish and Free French troops began to stream, ashore to storm the defences of the Atlantic Wall in the teeth of overwhelming enemy firepower...