Our next book club meeting is on Monday 9 August.  Our theme for this month is music.
Call or email us to find out more about the book club.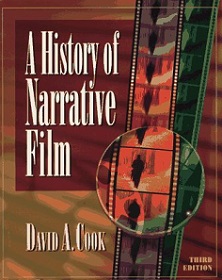 Title:
A History of Narrative Film
Now in its third edition, A History of Narrative Film continues to be the most comprehensive and complete history of international cinema in print. This book conveys the vastness and heterogeneity of film history; it describes the extraordinary number of extraordinary films that have been made over the last hundred years. Even in 1,100 pages and more than 1,500 illustrations, Cook can but summarize the development of film narrative and film art in every major country. He has wisely complemented his survey with in-depth analyses of three hugely important movies, The Birth of a Nation, The Battleship Potemkin, and Citizen Kane. He also focuses on major films--The Rules of the Game, Tokyo Story, Vertigo, Shadows of Forgotten Ancestors--when he assesses the careers of landmark directors. This edition, updated for the '90s, adds a section on "Hollywood 1965-present," as well as new chapters on "The Former Soviet Union" and "Third World Cinema."