Due to Covid 19, Arty Bees is
now closed until further notice.
Including on-line shopping.
We'll see you when things get back to normal.
Stay home and stay safe.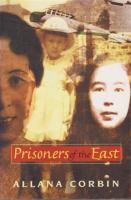 In late 1941, Allana Corbin's great-grandmother, grandmother and grandfather, mother and uncle were caught up in the Japanese invasion of Hong Kong. Along with hundreds of other civilians they were interned by the Japanese in the notorious Stanley Camp. For almost four years they endured the privations and horrors of life in the camp - starvation rations, executions and torture. Finally liberated in 1945, they began an odyssey to build a new life in a new land, Australia - an odyssey hindered by their Eurasian heritage and the brutal barrier of the White Australia policy. Prisoners of the East combines the voices and memories of four generations of a single family, living through the maelstrom of war and its aftermath. It is a fascinating, moving and compelling testament to the power of family in the face of disaster...
Second hand Trade Paperback