We are buying books again.
Please ring first if you have more than 3 boxes to bring in.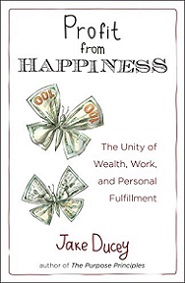 Title:
Profit from Happiness - The Unity of Wealth, Work, and Personal Fulfillment
Imagine doubling your income, without doubling your work hours. Imagine a world where everyone woke up happy, excited for work, and went home fulfilled. Imagine you could not stop smiling because you constantly felt so good about your professional and personal life. Most people believe that the best way to make more money is to work harder than ever and, as a result, they compromise their relationships, happiness, and energy. Others believe they have to quit their job and travel the world or volunteer their time to find happiness. These are both untrue, according to Ducey. In this enlightening, simple, heart-opening book, he asserts that the secret to high achievement and happiness at work, at school, in your heart, and at home is the deeply human need to wholeheartedly connect with and become more valuable to those around you. Ducey gives you mind-expanding and practical new ways to create more success, money, and happiness. The result is an enlightening and fulfilling read that will strengthen your relationship with money, bring you closer to those around you, and transform what you do at work, at school, and at home.