Thanks to everyone who saw our note that we are buying again.
The response has been huge.
So huge that we need to slow down in order to get all the books
we have bought over the last 2 weeks on the shelf for you to buy.

We are still buying but selectively.
So, please call if you have more than 3 boxes.
Some sections are overflowing, particularly children's, detective and cooking.

On a similar note if you are looking for
Children's books, detective novels or cook books, we have heaps of new stock.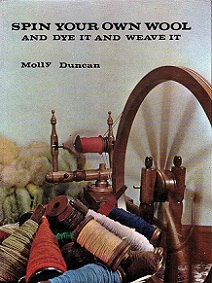 Title:
Spin Your Own Wool and Dye it and Weave it
Reed, 1968. Signed by the author. This book has been written primarily as a comprehensive guide to the processes involved in making threads, specifically the spinning, scouring and dyeing of wool.