Due to Covid 19, Arty Bees is
now closed until further notice.
Including on-line shopping.
We'll see you when things get back to normal.
Stay home and stay safe.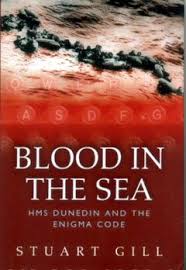 This is the story of the British light cruiser HMS Dunedin and the men who sailed with her to war in the Atlantic. After the peacetime years, hers was mostly a routine and unsung war of escort duty and patrols, her movements in the chase largely dictated by Enigma-based intelligence. But it was a short war; over 400 of her crew died when she went down in the South Atlantic in November 1941, victim of two torpedoes fired into her starboard side from U124... The story is partly told through the words of a young Royal Marine on his first voyage, and through the letters of the ship's newly posted surgeon and a young supply assistant, both of whom died...