Monday is Labour Day.
Our hours are 12-6.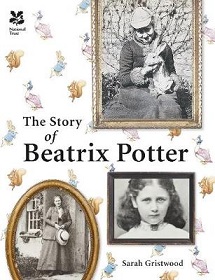 Title:
The Story of Beatrix Potter
To this day, Beatrix Potter's tales delight children and grown-ups around the world. But few people realise how extraordinary her own story is. She was a woman of contradictions. A sheltered Victorian daughter who grew into an astute modern businesswoman. A talented artist who became a scientific expert. A famous author who gave it all up to become a farmer. In The Story of Beatrix Potter, Sarah Gristwood follows the twists and turns of Beatrix Potter's life and its key turning points - including her tragically brief first engagement and happy second marriage late in life. She traces the creation of Beatrix's most famous characters - including the naughty Peter Rabbit, confused Jemima Puddleduck and cheeky Squirrel Nutkin - revealing how she drew on her unusual childhood pets and locations in her beloved Lake District. She explores too, the last 30 years of Potter's life, when she abandoned books to become a working farmer and a pioneering conservationist, whose work with the National Trust helped to save thousands of acres of the Lake District - a legacy that, like her books, continues to enrich our lives today....