Thanks to everyone who saw our note that we are buying again.
The response has been huge.
So huge that we need to slow down in order to get all the books
we have bought over the last 2 weeks on the shelf for you to buy.

We are still buying but selectively.
So, please call if you have more than 3 boxes.
Some sections are overflowing, particularly children's, detective and cooking.

On a similar note if you are looking for
Children's books, detective novels or cook books, we have heaps of new stock.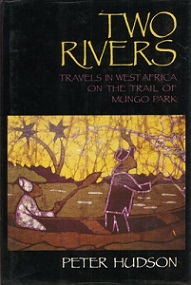 Title:
Two Rivers: Travels in West Africa on the Trail of Mungo Park
A beguiling account of a journey through West Africa in the footsteps of one of Britain's greatest explorers, Mungo Park. In 1795, Park set off into what was then a strange and terrible land, rumoured to hold fabulous riches and the headwaters of the Niger. This is a funny, bitter sweet and revealing journey by the author. Set in the vast hot savannahs south of the Sahara, the book blends past and present with exceptional fluency and power.