Update: Selling books to Arty Bees.
Many of you have been selling books to us, which is great, but we will be pausing our buying in December.
We are currently being very "choosy" when buying books.
Please call (04)3845339 if you have more than 3 boxes of books.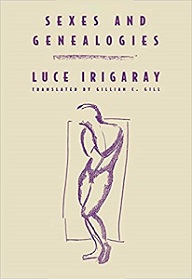 Title:
Sexes and Genealogies
In the tradition of Simone de Beauvoir and Julia Kristeva, Luce Irigaray is one of France's most versatile feminist critics. Sexes and Genealogies, a collection of lectures delivered throughout Canada and Europe, introduces her writing to a wider American audience. Irigaray's most famous work, Speculum of the Other Woman, prompted her expulsion from the Lacanin Ecole Freudienne because of its searing depiction of Platonic and Freudian representations of women. Now Sexes and Genealogies analyzes sexual difference according to what she terms the double dimension of gender and ideology. Irigaray covers major issues in religion, the law, psychoanalysis, and literature, such as: the continued neglect by psychoanalysts of the sexual and gender dimensions of therapy, the urgency of female divinity for contemporary feminist movements, and a reconsideration of women's relation to the market economy. Sexes and Genealogies also includes Irigaray's dazzling reading of the Oresteia, "Body Against Body: In Relation to the Mother," now acknowleged as a feminist classic.