Due to Covid 19, Arty Bees is
now closed until further notice.
Including on-line shopping.
We'll see you when things get back to normal.
Stay home and stay safe.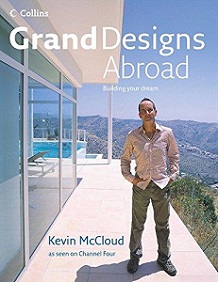 Title:
Grand Designs Abroad - Building Your Dream
Grand Designs has been one of Channel 4's most successful series for over 4 years - now for the first time, it moves overseas to combine home-building dreams with the desire to forge a new life abroad. This book covers all the requirements for locating, buying and securing building permission in the countries targeted by most British buyers - Spain, France, Italy and Ireland. Packed full of invaluable pointers - for example, the 5 most common pitfalls for buyers in France, and how planning permission in Italy is generally a case of retrospective application - it moves through all the practicalities, with contact details for key organisations and a blow by blow account of the timing, budget and stages you should expect in the buying process. Information is given for both complete self-builds and for renovations with advice on all aspects of building abroad as well as what to do when things - as they inevitably will - go wrong. The book is strong on design advice - looking at issues such as working with the landscape, using local building materials in both traditional and unusual ways and when breaking the design mould really can pay off. The book is illustrated with glorious examples - and salutary tales - from the series. An ultra-modern hillside house in Malaga, a restored castle in Tuscany and a converted church on Ireland's wild west coast are just some of the properties featured, all with their own powerful stories of individual dreams, disasters and triumphs.