Thanks to everyone who saw our note that we are buying again.
The response has been huge.
So huge that we need to slow down in order to get all the books
we have bought over the last 2 weeks on the shelf for you to buy.

We are still buying but selectively.
So, please call if you have more than 3 boxes.
Some sections are overflowing, particularly children's, detective and cooking.

On a similar note if you are looking for
Children's books, detective novels or cook books, we have heaps of new stock.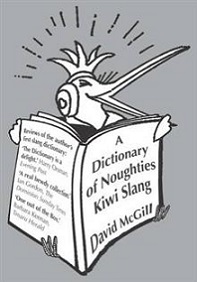 Title:
A Dictionary of Noughties Kiwi Slang
Silver Owl Press, Paekakariki, 2011, 204 pages. A Dictionary of Kiwi Slang for the New Millennium. Active slang, catchphrases and colloquialisms of the new century, including internet slang. From bikoi and boy racer to manus and munted to Remuera Attack Vehicle and Tupperwaka, including fleeting slang of the first decade such as Tigertigerumu and Helengrad. An alphabetical appendix of goneburgers from Anzac wafer to zack.