Thanks to everyone who saw our note that we are buying again.
The response has been huge.
So huge that we need to slow down in order to get all the books
we have bought over the last 2 weeks on the shelf for you to buy.

We are still buying but selectively.
So, please call if you have more than 3 boxes.
Some sections are overflowing, particularly children's, detective and cooking.

On a similar note if you are looking for
Children's books, detective novels or cook books, we have heaps of new stock.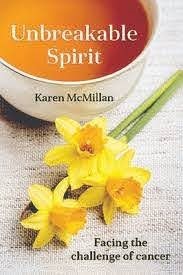 Title:
Unbreakable Spirit - Facing the challenge of cancer in New Zealand
An invaluable collection of real life stories of cancer, representing a wide range of circumstances that will provide comfort and help for families facing cancer. Unbreakable Spirit is a testimony to the resilience of the human spirit in the face of cancer. It tells the true stories of people who have survived cancer and those who are terminally ill. It also shares the experience of people who have had a loved one die from cancer, and includes information from a number of health professionals. When Karen McMillan's parents, both of whom had lived with cancer, died in their prime, she started her own journey to find answers to her questions from the stories of others. A breast cancer survivor, she also includes her own battle with cancer, a positive story of early detection and a good prognosis.
Second hand Trade Paperback