Thanks to everyone who saw our note that we are buying again.
The response has been huge.
So huge that we need to slow down in order to get all the books
we have bought over the last 2 weeks on the shelf for you to buy.

We are still buying but selectively.
So, please call if you have more than 3 boxes.
Some sections are overflowing, particularly children's, detective and cooking.

On a similar note if you are looking for
Children's books, detective novels or cook books, we have heaps of new stock.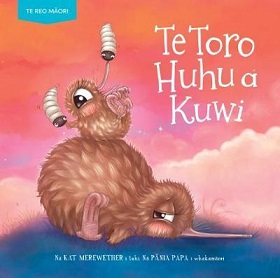 Title:
Te Toro Huhu a Kuwi
Another of your favourite Kuwi books has been translated into te reo M?ori! The bestselling title, 'Kuwi's Huhu Hunt'. Kat Merewether's bestselling 'Kuwi's Huhu Hunt' has been translated into te reo M?ori by P?nia Papa. The talented P?nia worked for 10 years as a lecturer of te reo M?ori at the University of Waikato. She is currently Director of Takat? Associates Ltd. P?nia is fluent in M?ori and English, with a passion for language, learning and teaching.