Monday is Labour Day.
Our hours are 12-6.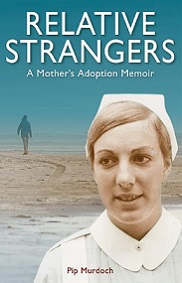 Title:
Relative Strangers: A Mother's Adpotion Memoir
Pip Murdoch offers us a raw and honest account of her personal journey, giving birth and placing her child up for adoption during early seventies New Zealand. Her frank and gritty portrayal is set against a period of rapid social change within a narrow and judgemental environment. Pip gives us intimate descriptions of the challenges she faced. She expresses the fear, shame and trauma of having to part with her baby and demonstrates a tireless determination to make the most of every situation. Her story begins with a girl coming of age in the constricting world of the nineteen sixties, when the sexual revolution overlapped the bigotry and puritanism that were our post-Victorian legacy. The cultural context of the time had a big effect on the choices Pip made and profoundly influenced her life. She gives us an insight into the harsh imposed adoption laws and the impact of institutional processes. Relative Strangers captures the realities of female adolescence, its innocence and excitement, accompanied by new freedoms, with the added ingredients of peer pressure and guilt. The memoir reminds us how far we've come in our societal attitudes. Pip then takes up the story twenty years later as she endeavours to search for her son. She takes the reader on a roller coaster ride of disappointment and hope through the process of her adoption reunion.