We are now accepting books on exchange and credits to shop cards.
We are not buying stock for cash yet. We are operating under Level 2 restrictions.
Please note that we will require you
* to wear a mask at all times whilst instore
* sign in and sanitise your hands at entry
* maintain a 2m distance between you and other browsing customers
We are here to help you if you need assistance and are happy to organise a delivery for those who are still staying safe at home. Web orders will be processed and delivered via courier and NZ Post.
Store pick ups can be ordered online or organised by phone and email. We will send you an email when your pick up is ready to be collected.
To keep up with all the Arty Bees news, why not subscribe to our newsletter at the bottom of the page.
Our next book club meeting is on Monday 13 December at 6pm.  Check out Facebook or email us to find out more.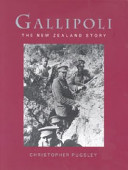 Title:
Gallipoli - The New Zealand Story
Gallipoli is perhaps New Zealand's most enduring myth, our 'finest hour', a bitter, bloody and tragic campaign in which 2721 young men lost their lives of the 8556 who fought there.
The campaign is glorified in our observance of Anzac Day, but the true story of New Zealand's involvement has never been comprehensively told. Army historian Christopher Pugsley, an expert in the campaign, has now collated his extensive research and interviews with survivors to provide a narrative which takes into account every aspect of Gallipoli and its impact on both the New Zealanders who fought there and on the country that sent them.
Gallipoli - The New Zealand Story provides the first major evaluation of one of our most important historical events, and many decades after the battle, strips bare the myth of Anzac and does justice to the reality of that epic campaign.
(bookplace of previous ownerin font)