We are open on the Wellington Anniversary from 12pm until 6pm.
Arty Bees is now operating under Orange restrictions.
You can order via our website.  All web orders are delivered via courier and NZ Post. 
Store pick ups can be ordered online or organised by phone and email.
To keep up with all the Arty Bees news subscribe to our newsletter at the bottom of the page.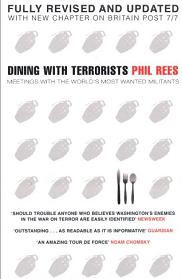 Title:
Dining with Terrorists - Meetings with the World's Most Wanted Militants
This fiercely intelligent expose is the culmination of twenty years' research. By infiltrating the most inaccessible political resistance groups, hardened reporter Phil Rees has sought to understand what motivates the 'terrorist' or 'freedom fighter' and to weigh this against current world events and the sweeping power of US military might. In his discussions with groups in such diverse countries as Colombia, Algeria, Kosovo, Indonesia, Sri Lanka, Iran, Lebanon, France, Cambodia and Ireland, Rees seeks to pierce the propaganda, to discover the human story behind the faceless, hooded caricature, and to test our preconceptions of just what the word terrorist actually means...
Second hand Trade Paperback