Due to Covid 19, Arty Bees is
now closed until further notice.
Including on-line shopping.
We'll see you when things get back to normal.
Stay home and stay safe.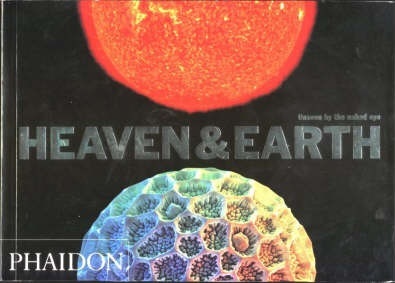 Title:
Heaven and Earth - Unseen by the Naked Eye
Through the lens of a microscope or the shaft of a telescope exists a universe of boundless life and beauty, that is entirely invisible to the naked eye. Atoms, ice crystals, grains of pollen, snowflakes, butterfly wings, cloud formations, searing comets, and showers of stars are born, live and die. The unprecedented scope of Heaven & Earth offers an awe-inspiring voyage of discovery through this infinite world that is science - from the smallest particles on the earth's surface to tiny dots in galaxies that are billions of light years away. Revealing the extensive range of matter contained in the cosmos, this book navigates a fascinating trajectory through an unexplored world, to celebrate the immeasurable beauty and countless mysteries of planet earth and the universe. It charts - chapter by chapter - intricate landscapes of increasing scale and distance, captured by microscope, x-ray, satellite and telescope. Each magnificent photograph is accompanied by an extended caption that explains it in detail, offering a dose of scientific information that enables us to associate with it on a human scale. This volume presents a unique and richly illustrated insight into the momentous relation between aesthetics and nature, in the light of nature's magnitude and its complexity of life. The result is the ultimate fusion of art and science, through a sequence of images that are as subtle as they are stupendous... Please note: Binding is a little loose.