We are buying books again.
Please ring first if you have more than 3 boxes to bring in.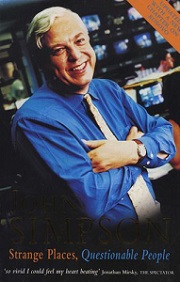 Title:
Strange Places, Questionable People
This book runs up to 1997 and descrIbes the great TV reporter, John Simpson's "adventures" in search of new stories from his start at the BBC IN 1966. I have already read the next volume in Simpson's memoirs and I really enjoyed it, but I think this book is at a higher level. At the core of the book is Simpson's relationship, very difficult at times, with the BBC and the latter's relationships with governments, including that of the UK. It is amazing how in the 18 years since this book was written so little has changed. The Conservative Party remains highly suspicious of the BBC and, this time, seems bold enough to do something about it, guided by the Murdoch press and the dreadful Daily Mail. Simpson stresses throughout this book his apolitical position, but because he seeks the truth out of every situation, this makes him and many of his colleagues, unpopular with politicians, to many of whom, truth is a difficult concept to grasp. What differentiates Simpson from many of his contemporaries is that he is clearly a writer as well as a broadcaster who puts himself "in harm's way" to improve our understanding of the way the world works. In doing so he often makes us very angry; often makes us cry; and often makes us laugh. This is a very enjoyable read as well as being very informative.