We have stopped buying, we are accepting lots for exchange and credit.
Our Winter operating hours are
Monday to Thursday 9am - 6pm
Friday 9am -7pm
Saturday 10am - 7pm
Sunday 11am - 6pm
Arty Bees is now operating under Orange restrictions.
You can order via our website.  All web orders are delivered via PBT Couriers or NZ Post. 
Store pick ups can be ordered online or organised by phone and email.
To keep up with all the Arty Bees news subscribe to our newsletter at the bottom of the page.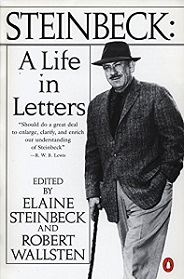 Title:
Steinbeck - A Life in Letters
Creased spine, minimal signs of secondhand wear.
For John Steinbeck, who hated the telephone, letter-writing was a preparation for work and a natural way for him to communicate his thoughts on people he liked and hated; on marriage, women, and children; on the condition of the world; and on his progress in learning his craft. Opening with letters written during Steinbeck's early years in California, and closing with a 1968 note written in Sag Herbor, New York, Steinbeck: A Life in Letters reveals the inner thoughts and rough character of this American author as nothing else has and as nothing else ever will.