Thanks to everyone who saw our note that we are buying again.
The response has been huge.
So huge that we need to slow down in order to get all the books
we have bought over the last 2 weeks on the shelf for you to buy.

We are still buying but selectively.
So, please call if you have more than 3 boxes.
Some sections are overflowing, particularly children's, detective and cooking.

On a similar note if you are looking for
Children's books, detective novels or cook books, we have heaps of new stock.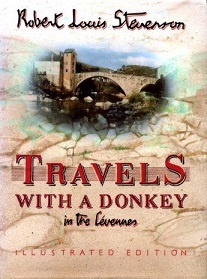 Title:
Travels with a Donkey in the Cevennes - Illustrated Edition
In October 1878 the lovesick Robert Louis Stevenson made a journey across the mountains of the Cevennes in Southern France. This account of his revealing spiritual odyssey is characterised by the author's natural gaiety as a writer, which breaks through his lover's despair...