We have stopped buying, we are accepting lots for exchange and credit.
Our Winter operating hours are
Monday to Thursday 9am - 6pm
Friday 9am -7pm
Saturday 10am - 7pm
Sunday 11am - 6pm
Arty Bees is now operating under Orange restrictions.
You can order via our website.  All web orders are delivered via PBT Couriers or NZ Post. 
Store pick ups can be ordered online or organised by phone and email.
To keep up with all the Arty Bees news subscribe to our newsletter at the bottom of the page.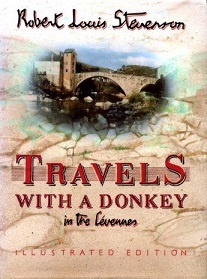 Title:
Travels with a Donkey in the Cevennes - Illustrated Edition
In October 1878 the lovesick Robert Louis Stevenson made a journey across the mountains of the Cevennes in Southern France. This account of his revealing spiritual odyssey is characterised by the author's natural gaiety as a writer, which breaks through his lover's despair...