From Wednesday 8 September we will operating under Level 2 restrictions.  We will be returning to usual opening hours.
Please note that we will require you
* to wear a mask at all times whilst instore
* sign in and sanitise your hands at entry
* maintain a 2m distance between you and other browsing customers
We are here to help you if you need assistance and are happy to organise a delivery for those who are still staying safe at home.
We will not be buying books until we return to Level 1.
Web orders will be processed and delivered via courier and NZ Post.  Store pick ups can be ordered online or organised by phone and email.  We will send you an email when your pick up is ready to be collected. 

To keep up with all the Arty Bees news, why not subscribe to our newsletter at the bottom of the page. 
Our next book club meeting is on Monday 11 October at 6pm.  Our theme for this month is the book that you would recommend to almost anyone.  Check out Facebook or email us to find out more.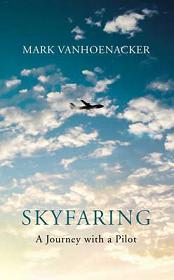 Title:
Skyfaring - A Journey with a Pilot
Sunday Times Bestseller. Book of the Week on Radio 4. "One of the most constantly fascinating, but consistently under-appreciated aspects of modern life is the business of flying. Mark Vanhoenacker has written the ideal book on the subject: a description of what it's like to fly by a commercial pilot who is also a master prose stylist and a deeply sensitive human being. This is a man who is at once a technical expert - he flies 747s across continents - and a poet of the skies. This couldn't be more highly recommended." (Alain de Botton). Think back to when you first flew. When you first left the Earth, and travelled high and fast above its turning arc. When you looked down on a new world, captured simply and perfectly through a window fringed with ice. When you descended towards a city, and arrived from the sky as effortlessly as daybreak. In Skyfaring, airline pilot and flight romantic Mark Vanhoenacker shares his irrepressible love of flying, on a journey from day to night, from new ways of mapmaking and the poetry of physics to the names of winds and the nature of clouds. Here, anew, is the simple wonder that remains at the heart of an experience which modern travellers, armchair and otherwise, all too easily take for granted: the transcendent joy of motion, and the remarkable new perspectives that height and distance bestow on everything we love.