Thanks to everyone who saw our note that we are buying again.
The response has been huge.
So huge that we need to slow down in order to get all the books
we have bought over the last 2 weeks on the shelf for you to buy.

We are still buying but selectively.
So, please call if you have more than 3 boxes.
Some sections are overflowing, particularly children's, detective and cooking.

On a similar note if you are looking for
Children's books, detective novels or cook books, we have heaps of new stock.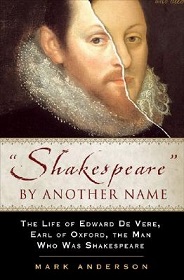 Title:
Shakespeare by Another Name: The Life of Edward De Vere, Earl of Oxford, the Man Who Was Shakespeare
Draws on a wealth of new evidence to argue that the bard was actually Edward de Vere, the seventeenth Earl of Oxford, in a portrait that identifies the earl as a courtier, scholar, and prolific ghostwriter whose life events convincingly mirrored and inspired themes in Shakespeare's plays.
Second hand Trade Paperback