We are now accepting books for exchange only.
Please ring first if you have more than 3 boxes to bring in.
We are not buying books for cash yet. We will keep you posted.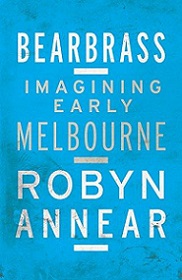 Title:
Bearbrass - Imagining Early Melbourne
"Just a little way down Collins Street, beside Henry Buck's, is a perpetually dark but sheltered laneway called Equitable Place. Here you'll find a number of places to eat and drink. Settle yourself in the window of one, shut your eyes, and picture this scene of yore ..." In this much-loved book, Robyn Annear resurrects the village that was early Melbourne - from the arrival of white settlers in 1835 until the first gold rushes shook the town - and brings it to life in vivid colour. Bearbrass was one of the local names by which Melbourne was known and Annear provides a fascinating living portrait of the streetlife of this town. In a lively and engaging style, she overlays her reinvention of Bearbrass with her own impressions and experiences of the modern city, enabling Melburnians and visitors to imagine the early township and remind themselves of the rich history that lies beneath today's modern metropolis. The original Bearbrass won the A.A. Phillips Award for Australian Studies in the 1995 Victorian Premier's Literary Awards. Robyn Annear is an ex-typist who lives in country Victoria with somebody else's husband. She is the author of A City Lost and Found, Bearbrass, Nothing But Gold, The Man Who Lost Himself, and Fly a Rebel Flag. She has also written several pieces for The Monthly magazine.