We are open on the Wellington Anniversary from 12pm until 6pm.
Arty Bees is now operating under Orange restrictions.
You can order via our website.  All web orders are delivered via courier and NZ Post. 
Store pick ups can be ordered online or organised by phone and email.
To keep up with all the Arty Bees news subscribe to our newsletter at the bottom of the page.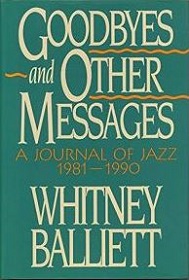 Title:
Goodbyes and Other Messages - A Journal of Jazz 1981-1990
Whitney Balliett's book contains many of the shorter pieces he has done for The New Yorker. (The pieces on the pianist Bill Evans and on the classic 1957 CBS television show, "The Sound of Jazz," have not been published before.) Balliett gives brilliant final summings-up of many of the irreplaceable musicians who died in the eighties. But he also offers penetrating assessements of young turks like Michael Petrucciani, Warren Vache, Howard Alden, and Wynton Marsalis. Jazz is passing through a recollective period, and Balliett takes long looks at the great Blue Note, Keynote, and Commodore reissue programs, the new jazz repertory groups, and the ambitious and wayward Grove Dictionary of Jazz. He puts his elegant glass on a Caribbean jazz cruise, on several different festivals, on the sad dissolution of the marvelous Gene Bertoncini-Michael Moore duo, and on the strange career of Miles Davis. And he gives us definitive essays on Bunny Berigan, Duke Ellington, John Hammond, Benny Goodman, Ben Webster, and the early lyrical jazz writer Otis Ferguson. Jazz fans and jazz musicians read Balliett because of his unrivalled ability to convey in words the very sound of their music. But people who don't know beans about jazz read him simply to relish his elegant and beautiful prose.