Anzac Day Hours:
Sunday 25 April - ANZAC Day 1-7pm
Monday 26 April - 12 -6pm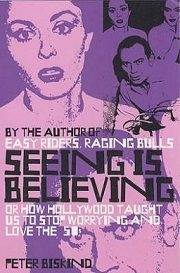 Title:
Seeing Is Believing - Or How Hollywood Taught Us to Stop Worrying and Love the 50s
Bloomsbury Publishing, 2000. A look at the Hollywood movies of the 1950s and the thousand subtle ways they reflect the political tensions of the decade. It covers films like 'Giant', 'Rebel Without A Cause' and 'Invasion of the Body Snatchers' to show how politically innocent movies in fact do bear an ideological burden. As we see organization men and rugged individualists, housewives and career women, cops and doctors, teen angels and teenage werewolves fight it out across the screen, from suburbia to the farthest reaches of the cosmos, we understand that we have been watching one long dispute about how to be a man, a woman, and an American...