We are open on the Wellington Anniversary from 12pm until 6pm.
Arty Bees is now operating under Orange restrictions.
You can order via our website.  All web orders are delivered via courier and NZ Post. 
Store pick ups can be ordered online or organised by phone and email.
To keep up with all the Arty Bees news subscribe to our newsletter at the bottom of the page.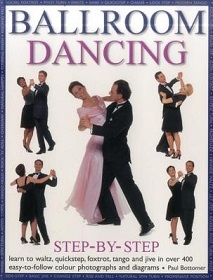 Title:
Ballroom Dancing Step-By-Step - Learn to Waltz, Quickstep, Foxtrot, Tango and Jive in Over 400 Easy-To-Follow Photographs and Diagrams
This is a concise illustrated guide to each dance and its movements, so you can learn at home and see what you are aiming to achieve. It is an easy-to-follow handbook suitable for dancers of all ages and any level of experience. It is the perfect book to introduce you to the great ballroom dances and engage in this popular pastime. You can learn the traditions, steps and routines - what to wear, the holds and techniques, the dos and don'ts - with tips throughout to guide you through every movement. Dancing is a great exercise that keeps you fit and active. This book is the ideal introduction for anyone interested in starting out in ballroom dance, as well as for those with some experience too. The author explains the background, traditions and rules, what to wear and when, and how to get started on the dance floor. The classic ballroom dances included - the social foxtrot, waltz, quickstep, modern tango, slow foxtrot, the Viennese waltz and the jive - are then explained with easy-to-follow lessons. The basic routines are built up in step-by-step movements with a simple and clear teaching system to study at home.