We are delighted to be open
Our Queen's Birthday hours on Monday 1 June are 12 till 6.
There are Covid-19 protocols in place to keep our staff and customers safe.
Please abide by these and please don't visit us if you are feeling unwell.
Please note, we will NOT be buying or exchanging books under Level 2.
Thank you for your on-line support during Level 3 and for your patience with the delays in delivery.
We look forward to seeing you all in store soon.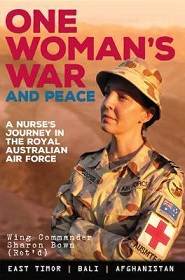 Title:
One Woman's War and Peace - A Nurse's Journey in the Royal Australian Air Force
In 1999, idealistic 23-year-old Registered Nurse Sharon Bown left her comfortable family life in Tasmania and joined the Royal Australian Air Force with the aim of providing humanitarian aid to the world. Through her 16-year military career she deployed on three operations, barely survived a helicopter crash, struggled to return to military service, mixed in political circles in Canberra and around the world as Aide de Camp to the Minister for Defence, and commanded a combat surgical team during some of the most intense fighting in Afghanistan. During this time, she lost her mother to breast cancer and almost lost her policeman father to a homicidal psychopath on his way to shoot dead his girlfriend but who decided to kill a cop instead. From teaching East Timorese orphans to learn English to tending to wounded Coalition soldiers choppered into her surgical team from deadly battles on the Afghan dust, Sharon's story is that of a sheltered civilian RN becoming a military Nursing Officer and a commander. Her military service was unique, varied and far-reaching but came at the cost of her physical and mental health. A broken back, shattered jaw and Post-Traumatic Stress Disorder are the price she has paid for a remarkable and inspirational career in the Royal Australian Air Force...
Second hand Trade Paperback