We are open on the Wellington Anniversary from 12pm until 6pm.
Arty Bees is now operating under Orange restrictions.
You can order via our website.  All web orders are delivered via courier and NZ Post. 
Store pick ups can be ordered online or organised by phone and email.
To keep up with all the Arty Bees news subscribe to our newsletter at the bottom of the page.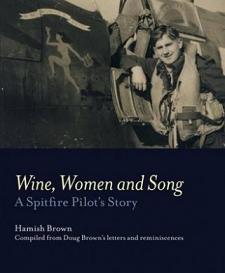 Title:
Wine, Women and Song - A Spitfire Pilot's Story
Stayer, Auckland, 2011. Second hand hardback with DW in very tidy condition. No inscriptions.
Compiled from Doug Brown's letters and reminiscences during his time during World War 2. From the outbreak of war when having a weekend away at Chateau Tongariro with his mates when they all decide to sign up, the book traces training at Levin and Whenuapai, transit to Canada on the Awatea for further training on Harvards. Combat action included 2 years with 485 Squadron based in England, a period in Fighter Leader School and Pre-Invasion School training other pilots, and a second tour of duty in 130 Squadron based in Holland and Belgium. The book gives a unique perspective of life as a fighter pilot. It was a life of contrasts. The thrill of flying, the loss of fellow airmen; anticipation of combat, the boredom of "readiness"; indulgent mess banquets, rough conditions; pranks and comradeship, the unrelenting toil of war. The appendix includes a brief account of NZ born Wing Commanders and of squadron colleagues who spent much of the war in Stalag Luft III, one of whom was involved in The Great Escape. Doug's bio is included in the book. Briefly, he was born in Mt Eden in 1919 and is 92 this weekend! Attended King's School and Wanganui Collegiate. After the war he was a director of a number of private, public and voluntary organisations. Doug Brown is an Auckland resident and after the War was a board member on a number of public, private and not-for-profit organisations. Proceeds of book sales go to music scholarship at the primary school, King's School which he attended 1925-1932