We are now accepting books on exchange and credits to shop cards.
We are not buying stock for cash yet. We are operating under Level 2 restrictions.
Please note that we will require you
* to wear a mask at all times whilst instore
* sign in and sanitise your hands at entry
* maintain a 2m distance between you and other browsing customers
We are here to help you if you need assistance and are happy to organise a delivery for those who are still staying safe at home. Web orders will be processed and delivered via courier and NZ Post.
Store pick ups can be ordered online or organised by phone and email. We will send you an email when your pick up is ready to be collected.
To keep up with all the Arty Bees news, why not subscribe to our newsletter at the bottom of the page.
Our next book club meeting is on Monday 13 December at 6pm.  Check out Facebook or email us to find out more.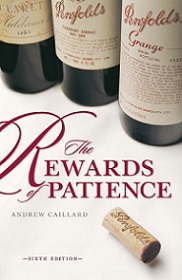 Title:
Penfolds: The Rewards of Patience
In the world of wine, Penfolds is synonymous with excellence, innovation, and even a little magic. The tale behind the winery's foundation, its controversial methods of operation, and the characters that were determined to break with tradition and produce something unique is a truly inspiring one. Much more than simply a winery history, this guide is also a practical tool for enjoying a personal collection of Penfolds wines at their drinking peak. Through the senses of an independent international panel, the fortunes of more than 50 years of Penfolds wines were painstakingly tracked and assessed over a special five-day tasting. Complete with tasting notes and personal commentaries, the results of this event form a central focus of the narrative. Now in its sixth edition, this is an invaluable companion for anyone who loves good wine.
NB: Cover may differ from one shown.
Second hand Trade Paperback
ISBN:
9781741755961 or 9781877082375