Anzac Day Hours:
Sunday 25 April - ANZAC Day 1-7pm
Monday 26 April - 12 -6pm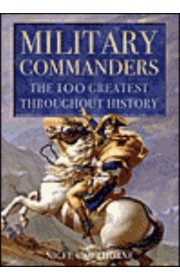 Title:
Victory - 100 Great Military Commanders
From ancient Greece to Desert Storm, Military Commanders presents a chronological history of great battles and the men who won them. Beginning with Leonidas of Sparta, who died at Thermopylae and ending with Colin Powell, this book includes such world famous leaders as Alexander the Great, Napoleon, Grant and Lee, Patton and Rommel. In addition, it includes the military theorist Sun Tzu, who wrote The Art of War, as well as lesser known but important figures, such as Red Cloud, Shaka Zulu, and General Giap. Military Commanders, containing pertinent quotations, anecdotes, and detailed facts is a highly-readable combination of history and biography.