We are buying books again.
Please ring first if you have more than 3 boxes to bring in.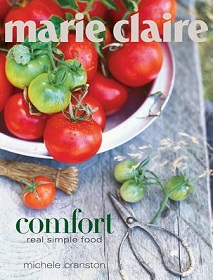 Title:
Marie Claire Comfort - Real Simple Food
Michele Cranston's inspirational cooking style is applied to gorgeous farm-fresh produce, capturing the goodness of country food and making the most of the natural flavours of the ingredients, reinventing home-style comfort cooking. You can create light, sumptuous meals using a wide variety of fresh produce, such as ruby-red tomatoes, dewy apples, freshly-laid eggs and bundles of just- picked herbs. Old favourites are given a new twist and innovative creations use fresh ingredients in unique ways. The recipes are as clear and easy-to-follow as always. Whether it is classic roast meats, cooked to perfection and dressed with a simple and flavoursome sauce, a lush plate of organic vegetables or a beautiful cake still warm from the oven, it is time to set the table for a comforting feast....