Thanks to everyone who saw our note that we are buying again.
The response has been huge.
So huge that we need to slow down in order to get all the books
we have bought over the last 2 weeks on the shelf for you to buy.

We are still buying but selectively.
So, please call if you have more than 3 boxes.
Some sections are overflowing, particularly children's, detective and cooking.

On a similar note if you are looking for
Children's books, detective novels or cook books, we have heaps of new stock.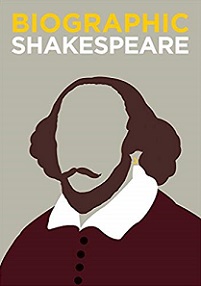 Title:
Biographic - Shakespeare
The Biographics series presents an entirely new way of looking at the lives of the world's greatest thinkers and creatives. It takes the 50 defining facts, dates, thoughts, habits, and achievements of each subject, and uses infographics to convey each of them in vivid snapshots. The result is a quickfire journey through truths and trivia that is the most entertaining way to follow in the footsteps of the men and women whose lives have most influenced our own. Many people know that William Shakespeare was a playwright and poet, widely considered the greatest dramatist of all time, What, perhaps, they don't know is that he wrote 37 plays and 154 sonnets; that he left behind six different versions of his signature; and that nobody knows what he did between 1585 and 1592.