Our next book club will be meeting on Monday 12 July and we will be discussing books with a seafaring theme.
Call or email us to find out more about the book club.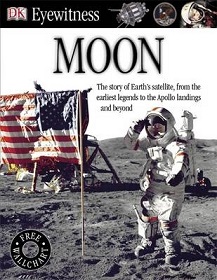 Title:
DK Eyewitness - Moon - The Story of the Earth's Satellite, from the Earliest Legends to the Apollo Landings and Beyond
DK Eyewitness Moon is an exciting and informative guide to the amazing satellite that orbits our Earth and lights our sky at night. Stunning photographs offer a unique 'eyewitness' view of the Moon, it's deep craters and waterless seas. Let your child discover all about our planet's nearest neighbour and the fifth largest satellite in the Solar System. They'll learn all about its gravitational pull and the hugely important effect on Earth's ocean tides. Please note that this book is missing the pull out wall chart.