Update: Selling books to Arty Bees.
Many of you have been selling books to us, which is great, but we will be pausing our buying in December.
We are currently being very "choosy" when buying books.
Please call (04)3845339 if you have more than 3 boxes of books.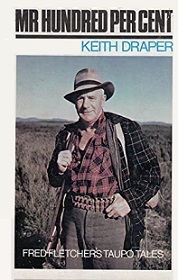 Title:
Mr Hundred Per Cent - Fred Fletcher's Taupo Tales
Fred Fletcher ... The name evokes an immediate response from most people associated with Taupo and its lake. In a community which has produced more than its fair share of "characters", Fred was perhaps the best known and most loved character of all...