We are delighted to be open
We are open normal hours.
There are Covid-19 protocols in place to keep our staff and customers safe.
Please abide by these and please don't visit us if you are feeling unwell.
Please note, we will NOT be buying or exchanging books under Level 2.
Thank you for your on-line support during Level 3 and for your patience with the delays in delivery.
We look forward to seeing you all in store soon.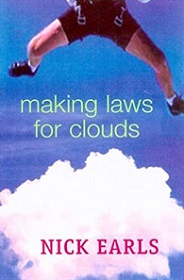 Title:
Making Laws for Clouds
This could be the best summer of Kane's life. This summer is different because there's a new girl in town. It's different because she's Tanika Bell, occasional bus driver, regular optimist and, it turns out, woman of the world. But expecting life to play by the rules is like making laws for clouds. Kane's whole family has never worked by the rules. His dad ran off years ago, his mother's still chafing and drinking, and she's really bad on her bad days. Summer sets in, hot and humid, and Kane works the road verges. But he's got lofty ambitions, he's got Tanika on his mind and he's going to make this summer count, whatever it takes.