We are delighted to be open
Our Queen's Birthday hours on Monday 1 June are 12 till 6.
There are Covid-19 protocols in place to keep our staff and customers safe.
Please abide by these and please don't visit us if you are feeling unwell.
Please note, we will NOT be buying or exchanging books under Level 2.
Thank you for your on-line support during Level 3 and for your patience with the delays in delivery.
We look forward to seeing you all in store soon.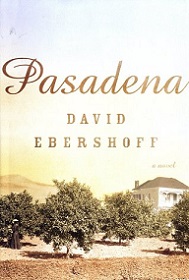 Signed by author. Pasadena, David Ebershoff's sweeping, richly imagined novel, is set against the backdrop of Southern California during the first half of the twentieth century and charts its rapid transformation from frontier to suburb. At the story's center is Linda Stamp, a fishergirl born in 1903 on a coastal onion farm in San Diego's North County, and the three men who upend her life and vie for her affection: her pragmatic farming brother, Edmund; Captain Willis Poore, a Pasadena rancher with a heroic military past; and Bruder, the mysterious young man Linda's father brings home from World War I. Infused with the rich sense of place for which Ebershoff's work is known, Pasadena remembers a Southern California whose farms edged the Pacific, where citrus dominated the economy, and where America's tycoons wintered in a vital city's grand hotels. Recalling the California character of self-invention that informs the work of John Steinbeck and Joan Didion, Pasadena is a novel of passion and history about a woman and a place in perpetual transformation.