Arty Bees is now operating under Orange restrictions.
You can order via our website.  All web orders are delivered via courier and NZ Post. 
Store pick ups can be ordered online or organised by phone and email.
To keep up with all the Arty Bees news subscribe to our newsletter at the bottom of the page.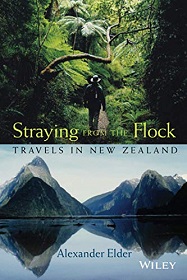 Title:
Straying from the Flock: Travels in New Zealand
John Wiley and Sons, 2005. Good second-hand condition.
An illuminating road trip through the history, life, and attractions of one of the most beautiful countries in the southern hemisphere.
The beauty and grandeur of New Zealand has captured the imagination of movie-goers over the past couple of years, and the country is a dream destination for many around the world. Straying from the Flock is an intimate and personal account of one passionate traveler's visit to this incredible country, its mountains and beaches, fjords, rainforests, vineyards, and hidden eateries. Each of the fifty chapters describes one day in his travels-fishing, flying, cattle herding, befriending locals at every turn. Filled with colorful stories and memorable personalities, the book not only describes the trip of a lifetime, but captures a life-altering experience for its writer. From mountains and rainforests to cities and beaches, Straying from the Flock is both a moving memoir and personal travel guide to this amazing country.
Second hand Trade Paperback