Thanks to everyone who saw our note that we are buying again.
The response has been huge.
So huge that we need to slow down in order to get all the books
we have bought over the last 2 weeks on the shelf for you to buy.

We are still buying but selectively.
So, please call if you have more than 3 boxes.
Some sections are overflowing, particularly children's, detective and cooking.

On a similar note if you are looking for
Children's books, detective novels or cook books, we have heaps of new stock.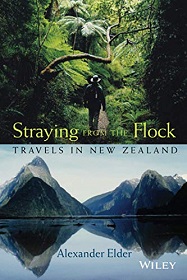 Title:
Straying from the Flock: Travels in New Zealand
John Wiley and Sons, 2005. Good second-hand condition. An illuminating road trip through the history, life, and attractions of one of the most beautiful countries in the southern hemisphere. The beauty and grandeur of New Zealand has captured the imagination of movie-goers over the past couple of years, and the country is a dream destination for many around the world. Straying from the Flock is an intimate and personal account of one passionate traveler's visit to this incredible country, its mountains and beaches, fjords, rainforests, vineyards, and hidden eateries. Each of the fifty chapters describes one day in his travels-fishing, flying, cattle herding, befriending locals at every turn. Filled with colorful stories and memorable personalities, the book not only describes the trip of a lifetime, but captures a life-altering experience for its writer. From mountains and rainforests to cities and beaches, Straying from the Flock is both a moving memoir and personal travel guide to this amazing country.
Second hand Trade Paperback