Anzac Day Hours:
Sunday 25 April - ANZAC Day 1-7pm
Monday 26 April - 12 -6pm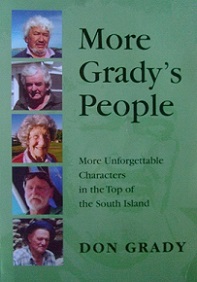 Title:
More Grady's People: More Unforgettable Characters in the Top of the South Island
Nikau Press, 2003. Another collection of stories and photographs of fascinating people from the top of the South Island. Selections include stories from Bill Solomon (who started the Whale watching industry in Kaikoura) and the octogenarian Hislop brothers - Archie, a pioneering organic lifestyler and Godfrey, a gold fossiker for 67 years.