Arty Bees is now operating under Orange restrictions.
You can order via our website.  All web orders are delivered via courier and NZ Post. 
Store pick ups can be ordered online or organised by phone and email.
To keep up with all the Arty Bees news subscribe to our newsletter at the bottom of the page.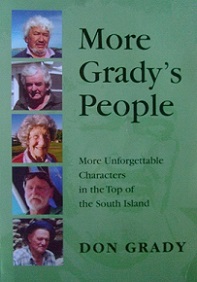 Title:
More Grady's People: More Unforgettable Characters in the Top of the South Island
Nikau Press, 2003.
Another collection of stories and photographs of fascinating people from the top of the South Island. Selections include stories from Bill Solomon (who started the Whale watching industry in Kaikoura) and the octogenarian Hislop brothers - Archie, a pioneering organic lifestyler and Godfrey, a gold fossiker for 67 years.