Due to Covid 19, Arty Bees is
now closed until further notice.
Including on-line shopping.
We'll see you when things get back to normal.
Stay home and stay safe.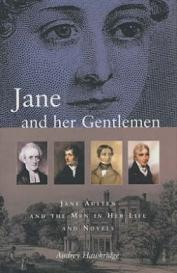 The acclaimed novelist Jane Austen, who died at the age of forty-one in 1817, is one of the most celebrated spinsters in English literary history. However, she was much more worldly than many have given her credit for and she was never short of suitors and male friends." "In this absorbing study, Audrey Hawkridge discusses the men associated with the writer - including a mysterious suitor whom Jane developed a strong attachment for in her mid-twenties - to discover her feelings for them, mainly as expressed in those surviving letters to her sister Cassandra that her sibling did not feel the need to censor. The book also considers how these associations influenced the author's life and the depiction of her male characters in her fiction. In addition, Audrey Hawkridge looks in detail at Jane's relationships with her brothers, father and other male family members and friends and how - unlike many of her contemporaries - her preference for living and working quietly in the country was more important to her than the idea of marriage without love...