UPDATE - Selling books to Arty Bees.
We are accepting books for exchange at the moment.
We may buy selectively for cash, but please contact us first.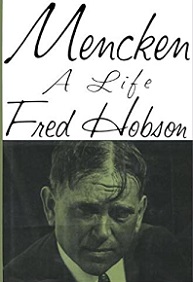 Ever in control, H. L. Mencken contrived that future generations would see his life as he desired them to. He even wrote Happy Days, Newspaper Days, and other books to fit the pictures he wanted: first, the carefree Baltimore boy; then, the delighted, exuberant critic of American life. But he told only part of the truth. Over the past twenty-five years - since the last Mencken biography - vital collections of the writer's papers have become available, including his literary correspondence, a 2,100-page diary, equally long manuscripts about his literary and journalistic careers, and numerous accumulations of his personal correspondence. The letters and diaries of Mencken's intimates have been uncovered as well. Now Fred Hobson has used this newly accessible material to fashion the first truly comprehensive portrait of this most original of American originals: a man who was so unhappy in his teens that he contemplated suicide, who taught himself German in order to write on Nietzsche, who considered himself as much European as American; a literary lion who, without benefit of academic training, compiled renowned volumes on the American language; a man of hates and loves, of passions and prejudices - all portrayed in intimate, elegant detail in this landmark biography.