Thanks to everyone who saw our note that we are buying again.
The response has been huge.
So huge that we need to slow down in order to get all the books
we have bought over the last 2 weeks on the shelf for you to buy.

We are still buying but selectively.
So, please call if you have more than 3 boxes.
Some sections are overflowing, particularly children's, detective and cooking.

On a similar note if you are looking for
Children's books, detective novels or cook books, we have heaps of new stock.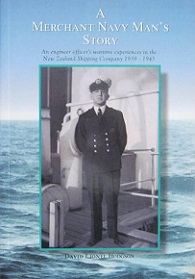 Title:
A Merchant Navy Man's Story - An Engineer Officer's Wartime Experiences in the New Zealand Shipping Company 1939-1945
Published by David lionel Hodgson, Christchurch, 1998, 192 pages. In 1938 Lionel Hodgson followed in his father's footsteps and joined the New Zealand Shipping Company as an engineer. Twice torpedoed in the Second World War, he sailed in ships that carried vital cargoes to a beleaguered Britain. This book, written by his son, will be of great interest to seafarers and war historians as well as the general reader.