Our next book club will be meeting on Monday 12 July and we will be discussing books with a seafaring theme.
Call or email us to find out more about the book club.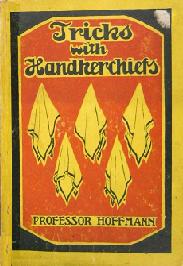 As an accessory, the handkerchief has always been popular with conjurors. If anything had to be covered over, or wrapped up, during some process of transformation, a borrowed handkerchief was just the thing for the purpose, and one white handkerchief was so very like another that an article so enveloped was 'changed' with special facility. But until Buatier de Kolta showed the way, no one seems to have appreciated the intrinsic capabilities of the silk handkerchief as a magical 'property', and once the hint was given, others were not slow to make use of it, and handkerchief tricks, in one shape of another, now form a part of almost every magical performance...