We are open on the Wellington Anniversary from 12pm until 6pm.
Arty Bees is now operating under Orange restrictions.
You can order via our website.  All web orders are delivered via courier and NZ Post. 
Store pick ups can be ordered online or organised by phone and email.
To keep up with all the Arty Bees news subscribe to our newsletter at the bottom of the page.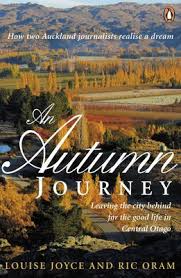 Title:
An Autumn Journey - Leaving the City Behind for the Good Life in Central Otago
The engaging story of a middle-aged couple who jump out of their comfort zone to explore a provincial lifestyle. Ric Oram and Louise Joyce often talked of semi-retiring to the South Island. A series of events convince them that the time has finally come, and they embark on an 18-month roller-coaster ride to find a rural refuge in Central Otago, supervise the construction of a house and finally shift into their new home. Finding a lifestyle block, building a house and then turning paddocks into a garden oasis are just part of their search for the good life. What happens when a couple of city-slickers move into a close-knit rural community and try to become 'locals'? Using inventive ways to supplement dwindling incomes, Ric and Louise slowly re-establish themselves, two cats and Louise's mother in a region of climatic and landscape extremes - along the way dodging most of the perils which await aspiring 'lifestyles'.