We are buying books again.
Please ring first if you have more than 3 boxes to bring in.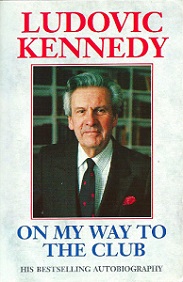 Title:
On My Way to the Club
Fontana, 1989. Reasonable second-hand condition. In these memoirs, Ludovic Kennedy recalls s life of great richness and diversity as naval hero, historian, journalist, Liberal politician and a campaigner against miscarriages of justice and television pundit. By no means just a record of the author's public life - married to Moira Shearer, one of the most famous dancers of her generation, he describes their travels, their friends and the causes in which they so passionately believed.