Update: Selling books to Arty Bees.
Many of you have been selling books to us, which is great, but we will be pausing our buying in December.
We are currently being very "choosy" when buying books.
Please call (04)3845339 if you have more than 3 boxes of books.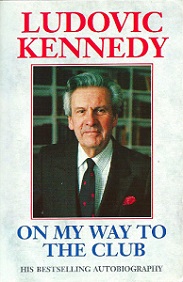 Title:
On My Way to the Club
Fontana, 1989. Reasonable second-hand condition. In these memoirs, Ludovic Kennedy recalls s life of great richness and diversity as naval hero, historian, journalist, Liberal politician and a campaigner against miscarriages of justice and television pundit. By no means just a record of the author's public life - married to Moira Shearer, one of the most famous dancers of her generation, he describes their travels, their friends and the causes in which they so passionately believed.