Thanks to everyone who saw our note that we are buying again.
The response has been huge.
So huge that we need to slow down in order to get all the books
we have bought over the last 2 weeks on the shelf for you to buy.

We are still buying but selectively.
So, please call if you have more than 3 boxes.
Some sections are overflowing, particularly children's, detective and cooking.

On a similar note if you are looking for
Children's books, detective novels or cook books, we have heaps of new stock.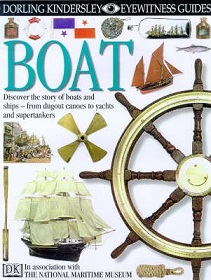 Title:
Boat (Dorling Kindersley Eyewitness Guides)
Each title in the "Eyewitness" series is an informative, visual account of a wide range of subjects and interests. This particular book looks at the world of boats, rafts and ships of both the past and the present, from hollowed-out logs to luxury liners. The book includes a history of the development of boats, from Irish skin-covered coracles and North American birch-bark canoes to river boats, decorated barges and the seagoing galleons and frigates to the golden age of sail.