We are buying books again.
Please ring first if you have more than 3 boxes to bring in.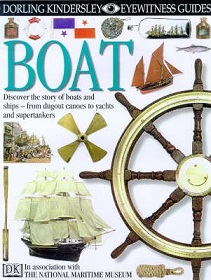 Title:
Boat (Dorling Kindersley Eyewitness Guides)
Each title in the "Eyewitness" series is an informative, visual account of a wide range of subjects and interests. This particular book looks at the world of boats, rafts and ships of both the past and the present, from hollowed-out logs to luxury liners. The book includes a history of the development of boats, from Irish skin-covered coracles and North American birch-bark canoes to river boats, decorated barges and the seagoing galleons and frigates to the golden age of sail.