We are delighted to be open
We are open normal hours.
There are Covid-19 protocols in place to keep our staff and customers safe.
Please abide by these and please don't visit us if you are feeling unwell.
Please note, we will NOT be buying or exchanging books under Level 2.
Thank you for your on-line support during Level 3 and for your patience with the delays in delivery.
We look forward to seeing you all in store soon.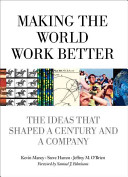 This book marks the Centennial of IBM's founding by examining how IBM has distinctly contributed to the evolution of technology and the modern corporation over the past 100 years. The authors offer a fresh analysis through interviews of many key figures, chronicling the Nobel Prize-winning work of the company's research laboratories and uncovering rich archival material, including hundreds of vintage photographs and drawings. The book recounts the company's missteps, as well as its successes. It captures moments of high drama – from the bet-the-business gamble on the legendary System/360 in the 1960s to the turnaround from the company's near-death experience in the early 1990s. The authors have shaped a narrative of discoveries, struggles, individual insights and lasting impact on technology, business and society. Taken together, their essays reveal a distinctive mindset and organizational culture, animated by a deeply held commitment to the hard work of progress. IBM engineers and scientists invented many of the building blocks of modern information technology, including the memory chip, the disk drive, the scanning tunneling microscope (essential to nanotechnology) and even new fields of mathematics. IBM brought the punch-card tabulator, the mainframe and the personal computer into the mainstream of business and modern life. IBM was the first large American company to pay all employees salaries rather than hourly wages, an early champion of hiring women and minorities and a pioneer of new approaches to doing business - with its model of the globally integrated enterprise. And it has had a lasting impact on the course of society from enabling the US Social Security System, to the space program, to airline reservations, modern banking and retail, to many of the ways our world today works. The lessons for all businesses – indeed, all institutions – are powerful: To survive and succeed over a long period, you have to anticipate change and to be willing and able to continually transform. But while change happens, progress is deliberate. IBM – deliberately led by a pioneering culture and grounded in a set of core ideas – came into being, grew, thrived, nearly died, transformed itself… and is now charting a new path forward for its second century toward a perhaps surprising future on a planetary scale...