Thanks to everyone who saw our note that we are buying again.
The response has been huge.
So huge that we need to slow down in order to get all the books
we have bought over the last 2 weeks on the shelf for you to buy.

We are still buying but selectively.
So, please call if you have more than 3 boxes.
Some sections are overflowing, particularly children's, detective and cooking.

On a similar note if you are looking for
Children's books, detective novels or cook books, we have heaps of new stock.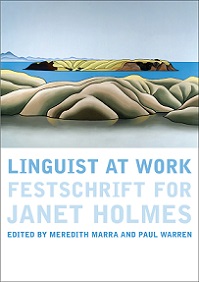 Title:
Linguist at Work - Festschrift for Janet Holmes
Published by Victoria University Press, Wellington, 2017, 282 pages. Throughout her 45-year career at Victoria University of Wellington, Professor Janet Holmes has operated at the cutting edge of sociolinguistics. She is recognised as a field leader, a pioneer for new approaches, and a warm and generous mentor. Linguist at Work brings together contributions from those who are lucky enough to count themselves among Janet's colleagues, students, collaborators and friends. The chapters present new research ideas and analysis, paying tribute to Janet in their quality and depth of engagement. From treatments of folk linguistics to sociophonetics, from the language of consent to the language used in children's books, from humour and leadership to the methods and applications of workplace discourse, the range of material reflects Janet's own contribution to so many different parts of linguistics. This Festschrift speaks to the international mana in which Janet is held, her academic impact on (socio)linguistic research about New Zealand and New Zealand English, and her status as a founder in the now thriving field of workplace discourse.